And just like that, it's summer! (Well not officially but it's been 90 degrees the past few days in NYC and if I leave home without my sweat rag, things get ugly.)
THE LITTLE THINGS // 5.19.17
It's that moment when,
You can't control your body,
Grin and jump for joy.
Feeling like a kid,
"Thinking" rests in the back seat,
Unbelievable.
Blinking to test it,
Plain as day, signed and dated,
Peanut victory.
I'm going to keep it brief and talk about the small moment of victory I had this week but first a little backstory…
Back in September (2016), while working at my last restaurant job, I had the pleasure of meeting and conversing with one of my top 3 filmmaker heroes. I won't tell you the whole story but, I had just finished my shift and was talking to a new coworker. He's a composer and so, of course, we were talking about films. He asked me who my favorite filmmakers were, who inspires me…and so I start gushing about a filmmaker I love, really fan girl-ing and suddenly, a dude leans across the bar and says, "The director you're talking about…she's here with me, she's in the bathroom right now." I thought he was joking but sure enough, after a moment she comes out and I see him telling her what just happened. So, I'm like, omg now I have to go talk to her!! I was literally shaking, so I chugged the rest of my beer and went over there.
Let me tell you, she was so kind and warm and hugged me right away. I was like I AM FREAKING DREAMING RIGHT NOW. It turned out that she was in town shooting her new film and she ended up becoming a regular at the restaurant. I mustered up the courage to ask her if she'd be willing to get a coffee with me and chat about making her first feature and to my surprise and delight, she said yes!!!!!! Long story short, she ended up getting too busy to meet me before she left NYC, and of course, I was  a little devastated, though I understand how crazy things can come up in the process of making a film.
Since then, I have been sitting on her email. Waiting until my script is in a place I'm happy with before I reached out again. Last week, I started kicking myself for not staying in touch all this time but decided, fuck it, I'm just going to send her a no-pressure email, worst case scenario she doesn't respond at all.
So I did (best believe I spent more than an hour composing this email)…Then I nervously checked my email every five minutes…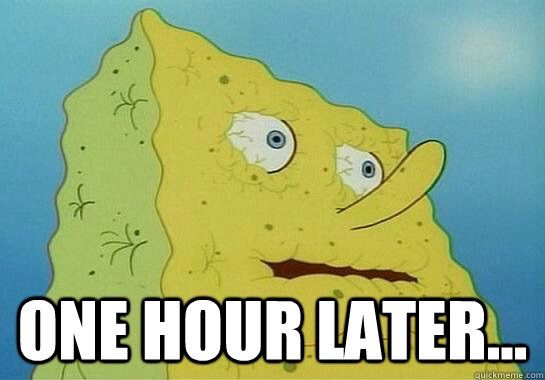 …and she AMAZINGLY responded to me within the same day!!!!!!!!!! I think I literally jumped up and down and spent the rest of the night grinning.
It really just goes to show you that even though something seems like a total long shot it is still worth trying for, because sometimes the stars just align. I won't keep fantasizing, just in case this all comes crashing down but for now, I'm feeling confident, like even the impossible is possible.
[You are not alone]