Before I get into it, I just want to give a big shout out to everyone who reached out to me personally to share their experiences after my post last week. Thank you, THANK YOU!!!
Hearing from you was exactly what I needed and a huge reason why I started sharing my experiences to begin with.
By continuing to share the things that make us vulnerable we won't let our anxieties beat us!! Hearing from you makes me feel like everything is worthwhile. It proves to me that mental health issues only become detrimental when we don't talk about them (and let them eat us up from the inside). This is also exactly one of the points of why I am making my feature film. Human connection being the difference between the spiral and the recovery.
That being said, I faired only slightly better this week than last. I am trying not to beat myself up about it, so I wrote a poem as a "call to action" to myself.
ATROPHY // 8.3.17
Stagnant.
Suspended in sugarless jello.
Just eat your escape…
sick to your stomach.
Curled in a ball,
limbs asleep,
down to the digit.
A lump,
with no purpose.
A disappointment,
who's forgotten how
to try,
lost the ability
to reach
floating fruit.
Ignorant calm until
the terror
soldiers in,
by the spoonful.
Awaken or die.
It's time to get motivated. No more excuses. I took an improv class at The PIT, years ago, and I'll never forget their mantra, "Follow the fear."
I'm going to try to really embody that this coming week. I've been letting my fear of failure win lately and I can't afford to do it anymore. I was terrified to post that poem last week, I almost didn't do it but the result was better than I could've imagined and I know I can continue to face my fears.
I would love to hear your stories of scary things you've done, with positive results. How did it make you feel after? Have you continued to "follow the fear" ever since? Feel free to reach out privately or post on social media!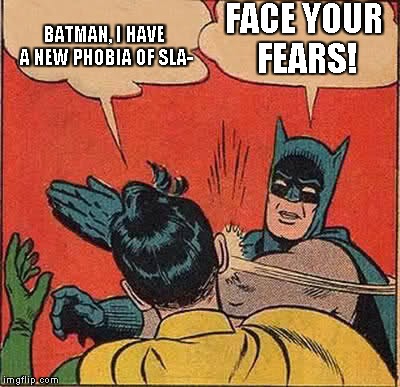 [WE are not alone]